Posted
Photographers often find that they cannot send their images for processing in magazines or print advertisements because of certain flaws like bad skin of a model, marks or wrinkles on clothes, poor lighting etc. Such images can be to us at Creative Solutions for retouching and image editing.
Our image editors at Creative Solutions use the latest software available today to bring back the original clarity and color resolution of an image. We are well versed in the areas of Image retouching / image clipping/ background removal and more. The following are the retouching techniques that we provide under our model retouching service.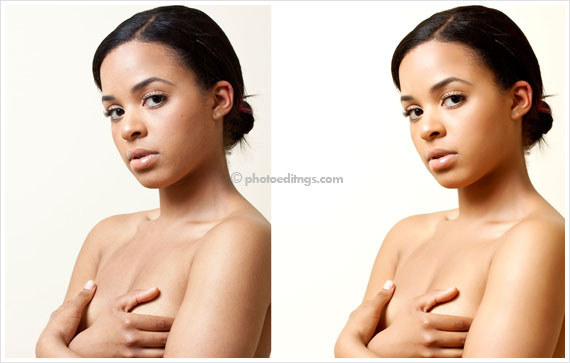 You might have photographs of your model which shows dark circles, crow's feet around the eyes and maybe a blemish or two on her skin. We can help modify these photographs to make your model blemish and wrinkle free in a matter of minutes!
We often receive requests from photographers asking us to remove a few lines off a subject's forehead in a photograph. We also have received requests to remove an object from the background that a client might not want in his photograph. Our image clipping and portrait retouching services allows our clients the liberty to order the addition or removal of certain portions of an image and retouch blemishes, spots and more! We ensure that these photographs are processed by us in such a way that they untouched and original!
Fashion photography Retouching
Have a batch of photographs that have a model sporting a crumpled tunic or a skirt with scattered spots? Editing of such images is now made incredibly easy thanks to our brilliant and competent image editors. We also provide masking services that allows us to hide the background of an image without actually deleting it. This way the blank studio background can be removed and shadows and portions of the background can be hidden from view by using image masks.
Visit Creative Solutions for Photo Shop, Photograph Restoration, Model Photos Edits, Retouching Models and Photo Shoot Retouching. Contact us by email for a free quote